Rugged Versatility
Multipurpose datalogger for monitoring and control
Request a Quote
Submit an enquiry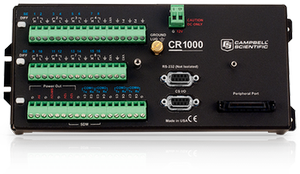 Image Gallery
Sensors
With several channel types, the CR1000 is compatible with nearly every available sensor, including thermocouples, SDI-12 sensors, and 4 to 20 mA sensors. A custom ASIC chip expands its pulse count, control port, and serial communications capabilities. The CR1000's I/O ports can be paired as transmit and receive, allowing serial communications with serial sensors and devices.
Measurement & Control Peripherals
The CR1000 is compatible with all of our CDMs (requires an SC-CPI), SDMs, multiplexers, vibrating wire interfaces, terminal input modules, and relays.
Communications
The CR1000 communicates with a PC via direct connect, Ethernet interfaces, multidrop modems, short-haul modems, phone modems (land line, digital cellular, and voice-synthesized), RF telemetry, and satellite transmitters (Argos, High Data Rate GOES, and Meteosat).
Data can be viewed on the CR1000KD Keyboard Display, the CD100 Mountable Display with Keyboard, an iOS or Android device (requires LoggerLink), CD295 DataView II Display, or a user-supplied PDA (PConnect or PConnectCE software required).
Compatible external data storage devices are the CFM100, NL115, and SC115.
Enclosures
The CR1000 and its power supply can be housed in any of our standard enclosures.
Power
Any 12 Vdc source can power the CR1000 datalogger. Power supplies commonly used with the CR1000 are the BPALK, PS100, and PS200. The BPALK provides eight non-rechargeable D-cell alkaline batteries with a 7.5 Ah rating at 20°C.
Both the PS100 and PS200 consist of a sealed rechargeable 7 Ah battery and a charging regulator. Their battery should be connected to a charging source (either a wall charger or solar panel). These two power supplies differ in their charging regulator. The PS100 has a standard regulator and the PS200 has a micro-controller-based smart regulator. The PS200's regulator provides two-step constant voltage charging and temperature compensation that optimize battery charging and increases the battery's life.
Also available are the BP12 and BP24 battery packs, which provide nominal ratings of 12 and 24 Ah, respectively. These batteries should be connected to a regulated charging source (e.g., a CH100 or CH200 connected to a unregulated solar panel or wall charger).
Software
CRBasic, the CR1000's full programming language, supports simple or complex programming and many onboard data reduction processes. Compatible software includes:
Short Cut
PC200W
PC400 (version 1.2 or higher)
LoggerNet (version 3.0 or higher)
RTDAQ (version 1.0 or higher)
PConnect (version 3.1 or higher)
PConnectCE (version 2.0 or higher)
VisualWeather (version 2.0 or higher)
Shipping Weights & Dims
Single Box Shipping Weight:
     4.1 kg

Single Box Shipping Dimensions:
     30.5 x 30.5 x 20.3 cm

Konect Global Data System
A secure data collection, archiving and display system from Campbell Scientific.
Konect Global Data Service is a brand new, subscription based way to handle data stored on a Campbell Scientific datalogger.