13-11-2015
We have been sent this great image by Joseph Shea of ICIMOD, he also supplied the following words to describe the background to the station: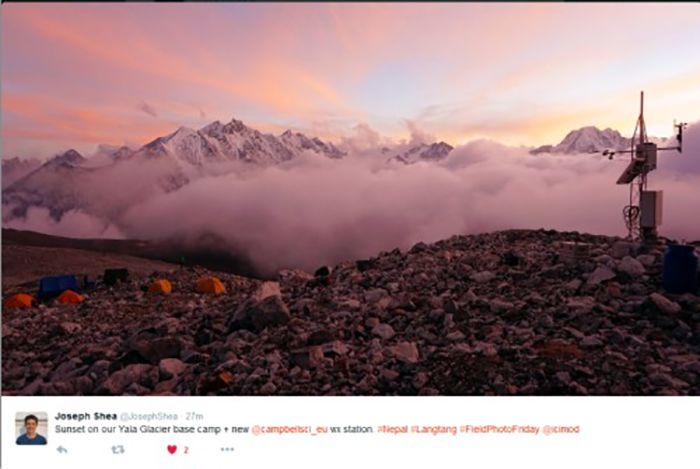 High-altitude observations of temperature, radiation, precipitation, and snowfall are rare. As part of the Norwegian-funded Cryosphere Initiative at the International Centre for Integrated Mountain Development (ICIMOD), we are maintaining meteorological, glaciological, and hydrological observations in the Himalayas. We also work with regional students and governments to ensure that these measurements are continued in the future.
On 25 April 2015, at the end of a snowy spring, a 7.8 magnitude earthquake unleashed massive snow and ice avalanches that destroyed entire villages and killed more than 300 people in Langtang Valley, Nepal. Our two main stations at Kyanging (3850 m) and Yala Glacier (5100 m; pictured) were also hit by the air blasts that accompanied these avalanches. A team of scientists from ICIMOD recently returned to Langtang to re-establish the stations with CR1000 dataloggers, Campbell towers, and new sensors. ICIMOD and its partners will continue to work in the valley to support those affected by the earthquake, and to improve our understanding of ongoing glacier change.
Photo credit: Joseph Shea